The journey to search and find the right classic Porsche is often a long and intensive one. Next to this, strict selection criteria and expertise are needed to separate the wheat from chaff. Many of the unique and high-quality Porsches that I offer are models that I have been driving myself for years, so I can also advise you in your purchase, my expertise guarantees beautiful and reliable cars, sometimes in showroom condition to complete restoration objects.
If you do not want to restore yourself, I can also accommodate and guide and support the process for you, with one of the four specialists I work with. From overhaul to a complete restoration, ask about the possibilities.
I import most of the Porsches on offer myself from abroad, especially from the U.S.A. The taxes and import duties have already been paid for all the cars on offer.
We are in no way affiliated with Porsche AG.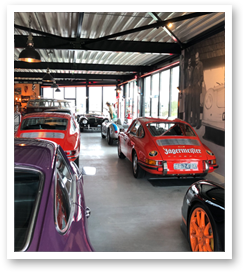 Our showroom
Ferdinand's Classics is about sharing the passion for the Porsche brand with other Porsche enthusiasts in order to give classic Porsches a lasting future. This ambition is realized from our Porsche showroom in Rijssen, the Netherlands.
A life long passion for Porsche has resulted in an attractive showroom in a pleasant and carefree setting and most importantly the experience with a strong reference to the philosophy of Ferdinand Porsche; a revival of the Porsche brand glory.